If your business isn't already working with Snapchat, a social media platform with 100 million daily active users, perhaps it's time to get acquainted.
Last year, we wrote an article on why Snapchat should form a part of your business's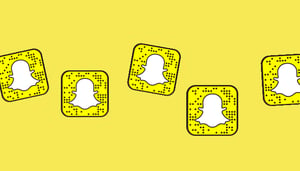 social strategy and we have also previously looked at the masterful way Burberry used the platform to great effect during London Fashion Week.
However, until now, we haven't offered any tips on how exactly to get started with it. So, read on to discover how to get to grips with using Snapchat for business:
1.
DOWNLOAD THE APP AND CREATE AN ACCOUNT

Download the Snapchat app from either the iTunes store or Google Play, sign up and set up your new Snapchat account. You will need to select a username just as with other social platforms - this is just one of the ways users will be able to find you - and can set a profile picture or GIF that represents the personality of your brand. A word of caution, you won't be able to change your username once your account is live, so choose wisely!
2.
HOW TO ADD FRIENDS AND FIND PEOPLE TO FOLLOW

Tap the ghost icon, choose 'Add Friends' and add by username; from your address book; by snapcode; or those nearby. Search social media for Snapchat mentions from influencers or find brands' Snapchat details with a Google search. Many will share their snapcodes, a special image in the shape of the customised Snapchat ghost. To add a user with a snapcode, screenshot or save the image so that Snapchat can scan it and add the user to your friends list. The option to add those nearby can prove particularly effective at networking events.
3.

CREATE AND SHARE YOUR SNAPCODE
Tap the ghost icon to see your unique snapcode. Simply crop the image using a smartphone so that you can share your snapcode and username on other social networks. Give people a reason to follow you on Snapchat when you share your code by offering exclusive content or a glimpse behind the scenes of your business. You can also download your snapcode (and instructions on how to customise it) from the website when using a desktop browser.
4.

HOW TO VIEW STORIES
Tap the lines or number in the bottom corner of the screen or swipe left to view your Stories page. Here you can browse the stories of your contacts like a news feed. Fast-forward stories by tapping the screen or swipe down to exit before the story is complete.
You can create photos and 10-second videos to share on Snapchat in one of two ways. You can save your snaps to your story where people will be able to view them unlimited times in a 24-hour time period before they disappear, or you can send private snaps to a select group of recipients. The latter is designed to be viewed once, although they can be watched once more within a 24-hour period. Simply tap the on-screen button to take a photo or press and hold to record a video. Experiment with the on-screen icons after creating your snap – 1 to discard your snap, 2 for emojis, 3 to add a caption, 4 to doodle, 5 to set how long the snap is displayed for, 6 to save your snap to your gallery, 7 to instantly update your story and 8 to send the snap to your friends. Plus, if you swipe right or left on the preview screen you have the option of adding filters and location information to your snap.
6. VIEW ANALYTICS
Tap on the dots located on the right of a story to see viewing stats. You can tap on individual snaps to find out who has viewed your story and also whether anyone has screenshot it. If part of a story proved particularly popular, you have the option of downloading and saving it so it can be shared elsewhere.
Snapchat offers an authentic platform to offer your followers perks such as live access to events, sneak previews of products and behind-the-scenes footage, as well as providing a key platform to partner with influencers. Don't let your business get left behind.