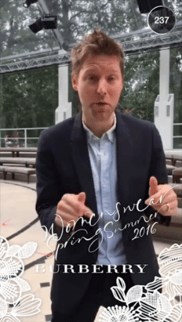 London Fashion Week is the perfect example of an event, which in the past, has only truly captivated those fortunate or connected enough to be able to attend. However, the adoption of social media by brands is changing all that and when it comes to Snapchat, Burberry are pioneers.
During their Womenswear Spring/Summer 2016 show this week, Burberry embraced all things digital and offered an access-all-areas view of what goes on both on and off the catwalk to engage their target audience.
HOW DID THEY DO IT?
Using Snapchat's Live Stories feature, Snapchatter's attending the event were able to upload Snaps to the Burberry story. Other Snapchatter's could then view the content wherever they were in the world, even if they don't follow Burberry.
1. SNEAK PREVIEWS
Burberry debuted their latest collection on Snapchat a day ahead of the live runway show.
2. BEHIND THE SCENES FOOTAGE
Snapchatter's were given access to view what goes on backstage, from rehearsals and models getting ready to the post-show interviews.
3. COUNTDOWN
Ahead of the live show, countdowns, footage of the backstage teams and celebrities such as Kate Moss arriving all created excitement.
4. SHOWCASING VIPS
The Snap was introduced by none other than Burberry's CEO Christopher Bailey adding credibility to the campaign.
5. ENGAGING WITH INFLUENCERS
Burberry models, make-up artists and bloggers, including In The Frow's Victoria Magrath featured in the Snaps.
Burberry invested heavily in the campaign following the success of previous Snapchat campaigns. By embracing what is seen as a relatively new social media channel, they are able to be where their target audience is spending their time.
We go into more detail on how brands can make Snapchat work for them in our post: Why Your Business Needs to Embrace Snapchat Marketing.